Pakistan Science Club launches a series of Programs on World Science Day 2014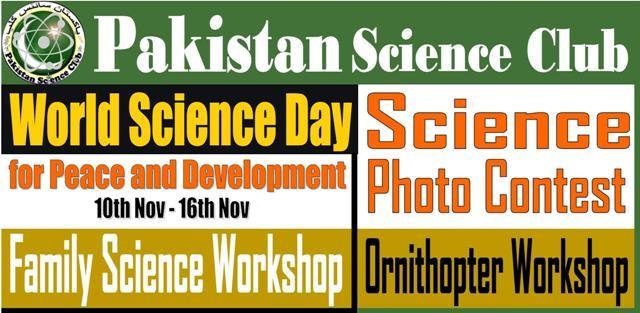 World Science Day is marked every year on November 10 aiming peace and development for the world. This Year on account of World Science day, Pakistan Science Club launches a series of Programs;
Ornithopter Workshop
 Science Photo Contest is all about exploring, capturing the moment of science around us. A Click on Science where you can click on any the purest beauty of the nature: Animals, plants and landscapes; geological or climatologically features. Scientific phenomena, Aeronautic & Space We aim to give you an opportunity to freeze them for eternity. SPC is an online program were submissions are being made. www.paksc.org/spc
Ornithopter Workshop is another event Connected to the World Science day celebrations, where technical skills enhancement is our main objective. This Workshop will help the young enthusiast to understand the science behind the flight of birds. Ornithopter Workshop is being held at SZABIST University Karachi.
Family Science day – World Science Day Special is a weekly program and it is the one of its own kind, Pakistan Science Cub has taken this initiative to bridge the lethal generation gap, It brings up a great family fun Science learning experience, where the whole family shall be involved in a great learning experience with fun. It shall lead to great experience, a family feeling; beside fun science they shall develop better understanding of each other. It shall add on a great sense of team work as a family.
 The activities shall also include hand-on Science activity that enhances confidence building, motivational talks, public speaking, and discussion forum are also the part of this weekly program. The whole of the event shall be televised on the web TV of Pakistan Science Club.  Family Science day is being held at L2L Academy, PECHS.
 The World Science Day for Peace and Development (WSDPD) is annually held on November 10 to raise awareness of the benefits of science worldwide. The WSDPD is also known as World Science Day
 It was recommended at the World Conference on Science in Budapest in 1999 recognition was required for the need for a new compact between science and society. It was discussed at the conference that a World Science Day would help strengthen commitments to attain the Declaration on Science and the Use of Scientific Knowledge's goals and to pursue the Science Agenda: Framework for Action's recommendations. This year's theme, 'Science for global sustainability: interconnectedness, collaboration, transformation' shines a light on our increasingly interconnected and interdependent economic, social, cultural and political systems, both in terms of the pressure these place on the Earth system and of the potential for solutions that they provide. Scientific evidence shows that humanity has put the functioning of the Earth system at risk. Current development paradigms and economic patterns are responsible for many of the interlinked and growing social, environmental and economic crises facing the planet. The defining challenge of our age is to safeguard Earth's natural processes to ensure the well-being of civilization while eradicating poverty, reducing conflict over resources, and supporting human and ecosystem health
 AIMS AND OBJECTIVES:
 The objectives of World Science Day for Peace and Development are:
To strengthen public awareness on the role of science for peaceful and sustainable societies.
To promote national and international solidarity for a shared science between countries.
To renew national and international commitment for the use of science for the benefit of societies.
To draw attention to the challenges faced by science and raise support for the scientific endeavor.