Powering the Future: Exploring Electricity, Machines, and Robotics
Welcome to our one-week summer STEAM camp designed for children aged 8 to 14! Our program offers an immersive and educational experience focused on electricity, circuits, machines, and robotics. Throughout the camp, students will learn essential concepts, build circuits, explore the world of machines, construct wired robots, and engage in thrilling robot wars. Our goal is to foster creativity, problem-solving abilities, and teamwork while providing a hands-on learning environment that sparks curiosity and ignites a passion for STEM. Join us for an unforgettable week of discovery, innovation, and fun!

---
FEATURES OF Summer Science Camp
Exploration of scientific laws and their applications.
Hands-on skills
Fun Learning Science activities
Engineering design process
---
Karachi Science Camp
Age group: 8 -14 years
Total Sessions: 5
Venue:

Pakistan Science Club, Korangi
VonHayat School PECHS

1st camp: 5 June to 9 June (Korangi)
2nd Camp: 12 June 16 June (PECHS)
3rd Camp: 19 June to 23 June (Korangi Camp)
Fee: 5,500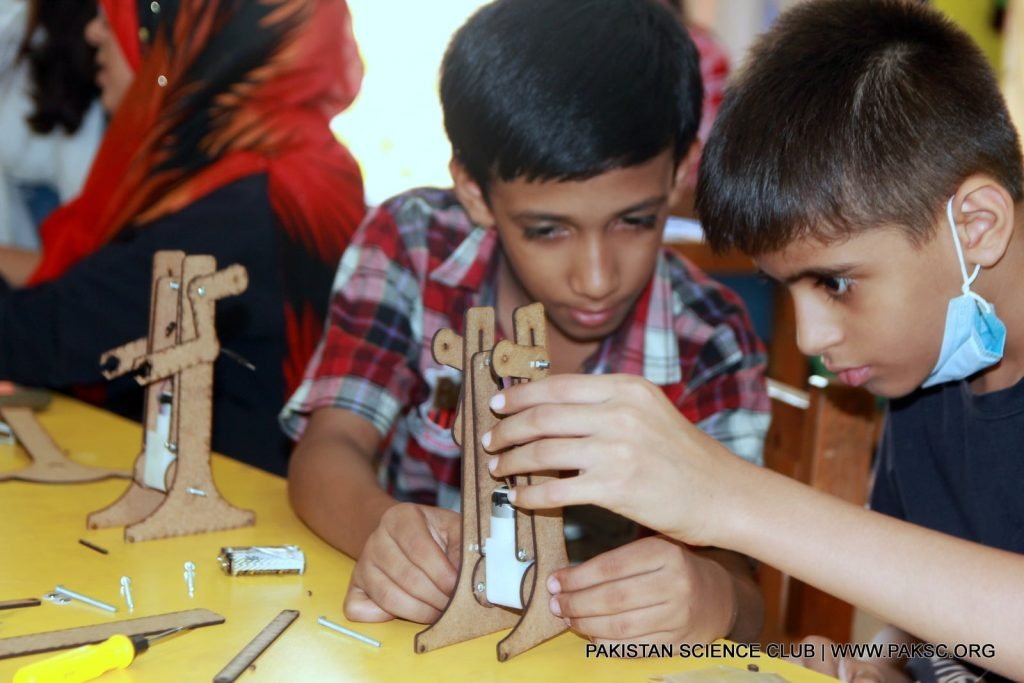 Islamabad Camp
Age Group: 8 to 14
Total Sessions: 5
Time: multiple time slots
Starting from 10 July to 14 July
Venue: Alama Iqbal open university
Fee: 5,500
📅 Date: 17 to 18 July
🧒 Age group: 8-14 years
⏰ Timing: 9:00 AM to 1:30 PM
📍 Venue: Modernage Public School & College, (Girls Campus) Abbottabad.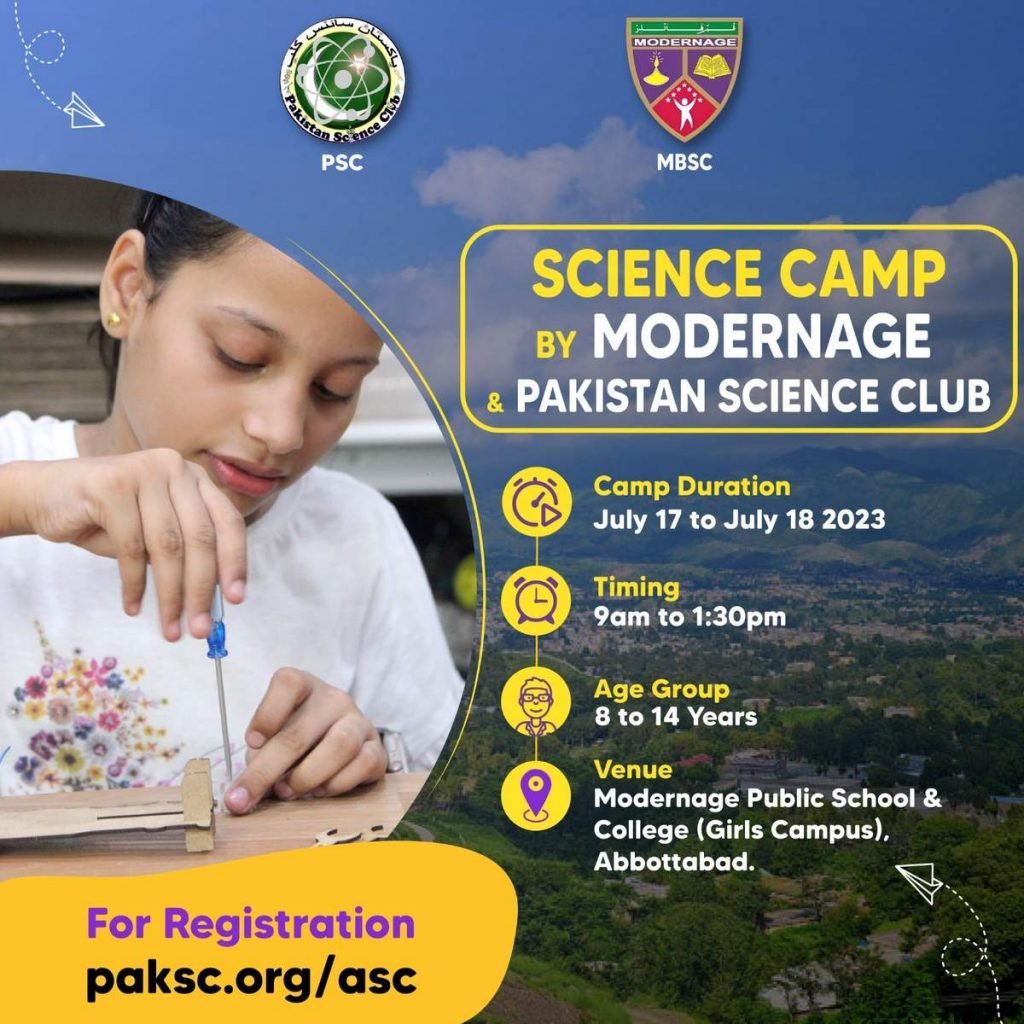 ---
The camp program offers an immersive learning experience in electricity, machines, and robotics. Over the course of five days, students will build circuits, understand the making of wire remote controllers, understand the principles of automata and create their own walking automata, design and assemble wired robots, participate in robot battles, and engage in a surprise STEAM challenge for families. The program aims to develop students' understanding of STEM concepts, foster creativity, problem-solving skills, and teamwork, and encourage an appreciation for the art and innovation involved in these fields.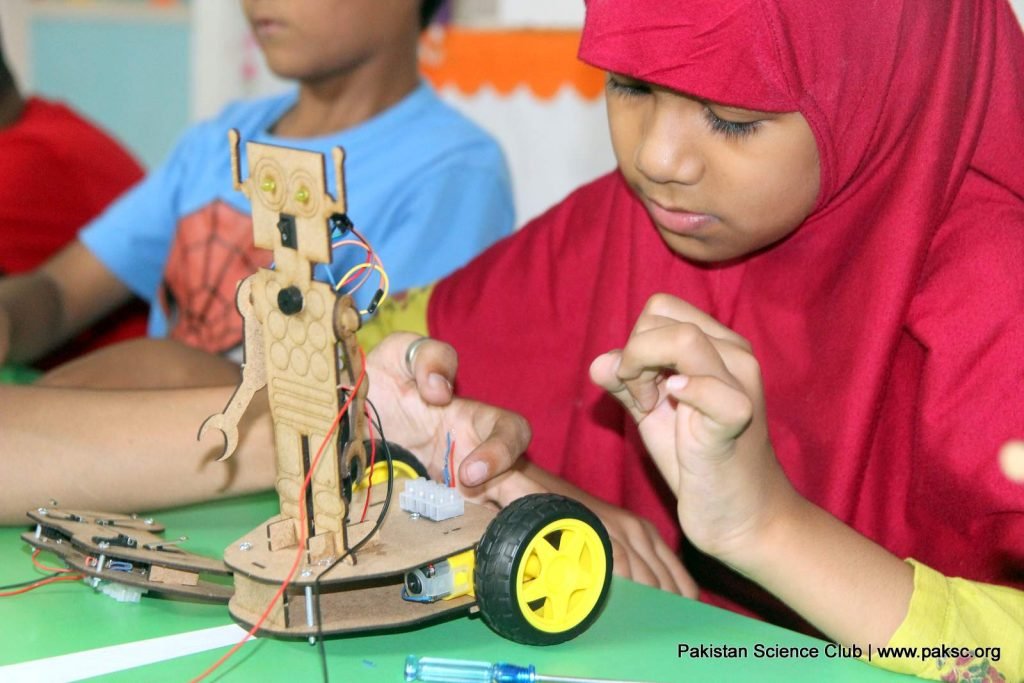 ---
FAQs.
You can register via this link Registration form and also by phone at 02135052989
*Please register each child separately*
Karachi: Korangi and PECHS
Islamabad: Alama Iqbal open university
Is there any kind of discount?
Membership Discount: Members receive a 10% Discount.
Sibling Discount: Siblings registered on the same day receive a 10 percent discount (only on fees).
What is the age group for the camp?
There is only one group, from age 8 to 14.
Can you tell us about your online camp?
This year we are not conducting any online camp.
What is the fee structure?
The fee of the camp is 5,500.