Call for the 2nd International Contest of Creative Popular Science Video Works
Popular Science Video Contest invites you to compete in the 2nd International Contest for the Creation of Popular Science Videos directed by the China Institute for Popular Science, organized by the secretariat of the World Organization for the Quality of Science and hosted by @KnowledgeScience till September 30th 2022. Upload your popular science videos to Zhihu and be bound to the 2nd International Contest on Popular Science Video Creation, you will have a chance to win a generous prize and receive traffic support and promotion from both inside and outside Zhihu.
Wonderful Prize Waiting for You to Get
1st Prize 5 First Prize Winners RMB 10,000 Each (PKR 3,36,000)
2nd Prize 10 Second Prize Winners RMB 3,500 Each (PKR 1,18,000)
3rd Prize 35 Third Prize Winners RMB 1,000 Each (PKR 33,000)
Merit Prize the Winning Prize Depends 0n The Submission Situation
How to participate?
Send an email in a subject of [CONTRIBUTION]*Title of your video.
Please list your personal information including name, educational background / occupation, Video description (<100 words recommended) in the email.
Attached with your video works to: creativevideo@zhihu.com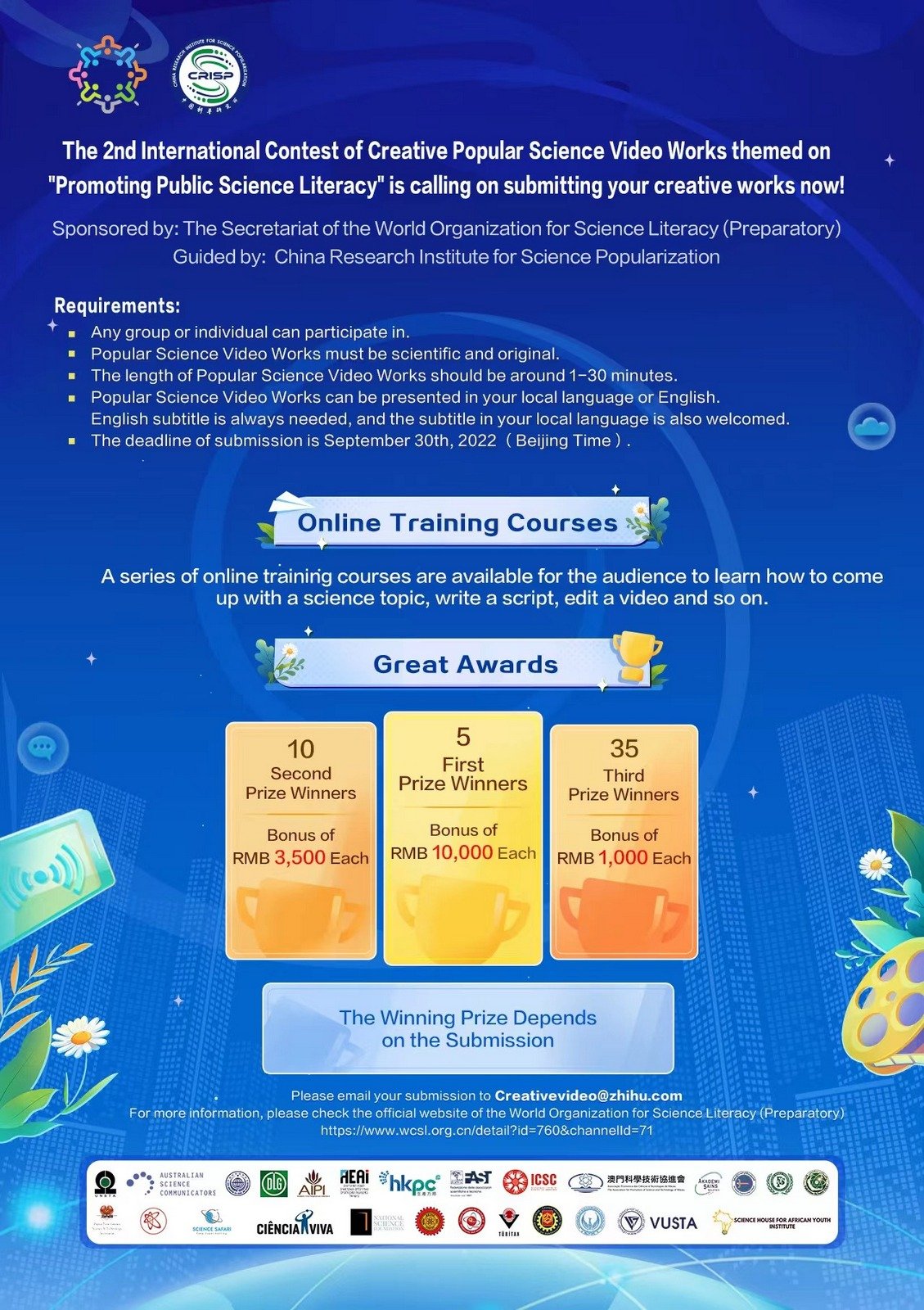 Recommended Topics

Frontier Technology: Chip Development; Artificial Intelligence; Quantum Applications; Deep Sea, Deep space and Deep earth; New Materials; Virtual Reality (VR) and Extended Reality (XR); Brain Science; Synthetic Biology; Pathogenic Microorganisms and Immunity

Life and Health: Knowledge Related to the Prevention and Treatment of New Coronary Pneumonia; Food Hygiene and Safety; Medical Health; Exercise and Health; Safety Production; Emergency Avoidance of Natural Disasters; Organ Reconstruction and Manufacturing;

Green and Environmental Protection: Carbon Neutralization; Carbon Fixation; Low-Carbon Technology; New Energy Technology and Application; Energy Storage; Sustainable Utilization and Protection of Marine Resources; Desertification Control; Biodiversity Conservation

Modern Farming: Seed Industry Development and Agricultural Planting; Land Protection and Utilization; Sustainable Agriculture; Wisdom Water Conservancy; Invasive Alien Species Control; Disaster Resistance and Stable Production; Agricultural Technology and Smart Agriculture; Green Agriculture and Agricultural Product Safety

Major Project: Major Technological Infrastructure and Technical Equipment; Aerospace Engineering; Deep-sea Engineering; Modern Energy System Construction Engineering; Important Ecosystem Protection and Restoration Engineering

The Digital Society: Internet Information Acquisition and Application; Cyberspace Security and Network Personal Security; 5G Development and Application; Internet Addiction and Hazards; The Digital Divide
Modern Traffic Traffic Safety; Vehicle; Road Traffic Design
Which works can participate?
Any individual or organization, domestic or international, can participate in the competition.
Science popularization videos contributed should be original and have never been released publicly.
The science popularization video works should be scientific and informative. No political tendency or racial problem should be involved and no religious belief should be preached.
Every video is required to contain at least one scientific knowledge point, and participants can introduce the scientific knowledge points in the "Video Description".
Requirements for videos: within 1-30 minutes at 720P or above and less than 2GB.
The videos can be interpreted in their native language, but English is encouraged. Domestic videos are encouraged to be subtitled in English and international videos are required to be subtitled in English.
You also need to know
Default copyright statement: Participating groups or individuals reserve the right of authorship and the host and creators share the rights of exhibition, duplication, translation, projection and dissemination jointly.
All works for the award evaluation should be attached with a self-commitment letter of the scientifically uploaded together with the video. And if there are recommendation letters from experts, the works will be reviewed and evaluated in priority.
There will be three rounds for the evaluation of this activity: preliminary evaluation, re-evaluation and final evaluation, which will be made by domestic and foreign experts. The awards list is expected to be announced in November of 2022.
The host reserves the right of final interpretation of the competition. All matters not mentioned will be further notified.
If any questions regarding to the activity, please send emails in a subject of [ENQUIRY] *your question to: creativevideo@zhihu.com
Look forward to your participation!
For more detailed information, please check the official website of the,
Contest: https://www.wcsl.org.cn/detail?id=990&channelId=55.
(Registration entrance: https://zhuanlan.zhihu.com/p/537515896)