What is Curiosity Machine AI Family Challenge ?
Curiosity Machine is a community of Students, Families, Teachers and STEM Experts building together and sharing it globally to explore the scientific concepts behind various Engineering Design Challenges.
 Why AI Family Challenge ?
The World Economic Forum estimates that 65 percent of children entering primary school today will work in completely new jobs that don't exist yet. With this new initiative, Iridescent aims to demystify Artificial Intelligence (AI) and AI tools for students and families and provide early introductions to the technology that is reshaping the workforce and encourage them to continue to learn about and engage with AI.
For the first time, Pakistan Science Club in partnership of Iridescent bringing this learning opportunity to Pakistan at two different sites for families.
How AI Family Challenge Works?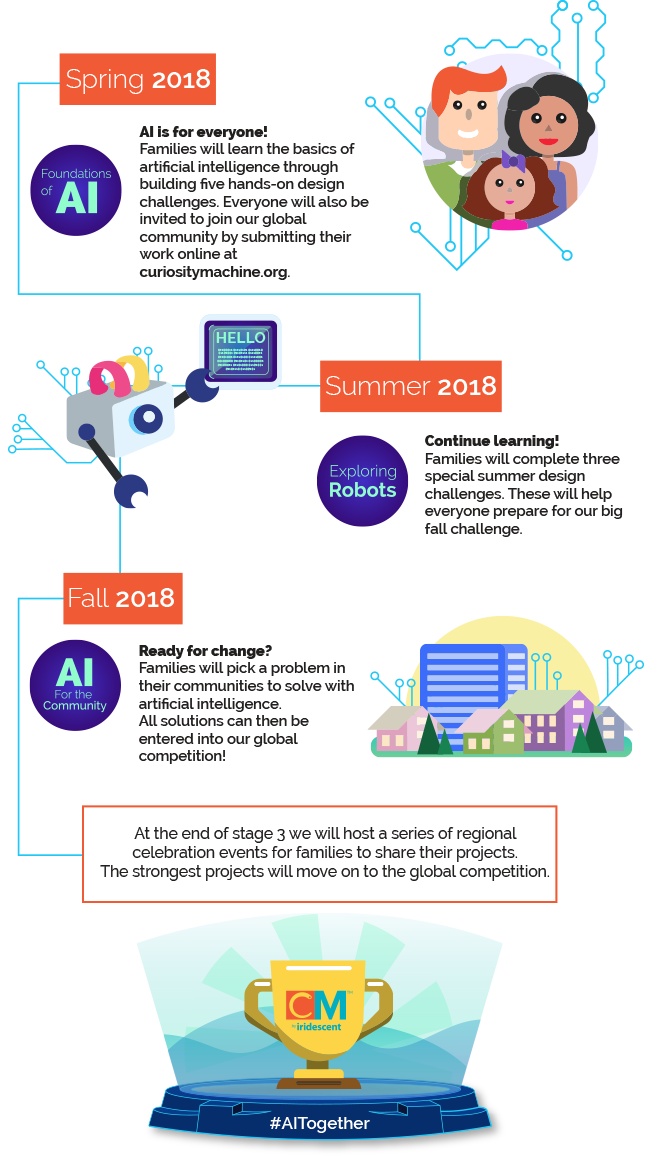 Be a part of the Artificial Intelligence Family Challenge Click Here
 Venue:
Site 1: Pakistan Science club C189, sector 35/A, zaman Town, Korangi, 4 Karachi.
Site 2: To be announce soon

Timings:
Site1: Saturday 12pm to 2pm and 3pm to 5pm
Site2: Sunday 12pm to 2pm and 3pm to 5pm
Duration: 
18 sessions, starting from 8th April to 30th November 2018
Participant criteria:
Each Family Team must have at least 1 parent/guardian and 1 child
The maximum Family Team size is 4 people
Family Teams can have up to 2 adults
Age requirements:
The parent/guardian needs to be 18 or older
All children need to be 15 or younger on January 1, 2018
We have 2 age divisions. The age division of your Family is determined by the oldest child member of your team
Senior: As of January 1, 2018, oldest child in family is 12-15
Junior: As of January 1, 2018, oldest child in family is 11- 8
How much it costs?
The program is free of cost. You just have to pay registration fee of RS 500 only
Contact: info(at)paksc.org | 0213-5052989 | 03453002870 Registration link Click Here