How to candle goes off with the shock wave آواز کی لہروں سے ایک موم بتی کی آگ کس طرح بجھا سکتے ہیں
You are going to learn how to make a vortex cannon. For this you will need normal plastic drinking cup, punching bag type balloon, black electrical tape, lighter, candle, scissors and a drill. Drill a hole in the bottom of the cup and cut off a big circle at the bottom. Cut the punching bag balloon in half and stretch it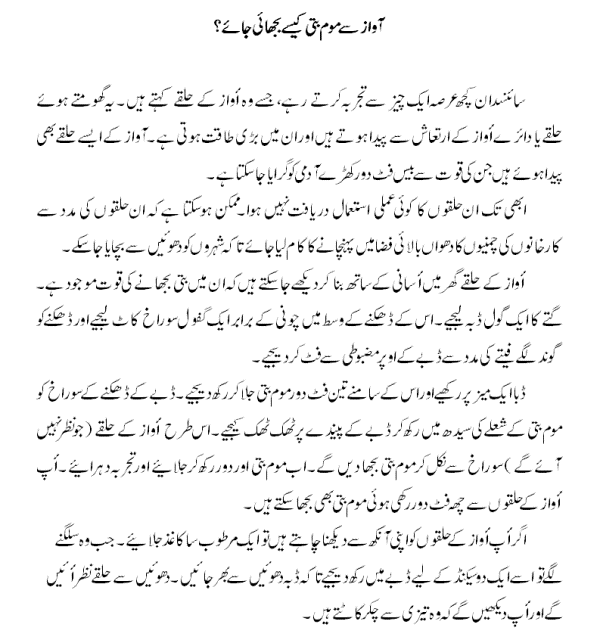 Toroidal vortex from a bottle
Here's a discovery that's too good to keep to myself...
After careful practice, you can snuff out a candle from as far as two metres (~six feet), just by tapping the side of a plastic bottle. This really impresses people at parties and everybody wants to try it.
A smoke-ring is a spinning, doughnut-shaped mass of air (a "toroidal vortex") spinning in an inside-out kind of way, so the air in the middleof the ring is always being blown forwards. This is the concentrated energy that puts out the candle flame, if you can score a direct hit with the smoke ring. This is the tricky part, because without smoke, you can't SEE the smoke ring...
More Information

Variation of project with a 2 liter bottle
Related vortex projects
Dolphins like to do physics in their home too
Vortex collision videos:
http://serve.me.nus.edu.sg/limtt/video/leapfrog.mpeg
http://serve.me.nus.edu.sg/limtt/video/collision.mpeg
Please follow and like us: